Sumo San
At Sumo San, we believe in serving the freshest foods with a unique presentation. We have a great mixture of light dishes along with full course entrees to satisfy each guest.
Visit us once and you will surely be coming back again and again. Come in for lunch, dinner, or just grab a roll and a drink- you will be impressed.
Richmond, VA
We're serving up the best PLATES in town! Along with sumo-sized ENTERTAINMENT, feel free to CONTACT us to see what else is HAPPENING!
Filter photo gallery:
About Sumo San
Through many years of preparing extraordinary dishes, Victor and his team have accomplished some pretty amazing things and have created a menu that's full of flavor and unique twists on traditional dishes.
Sumo San has been featured in Richmond Magazine's "Best of", as well as the Virginia Morning Show.
Sumo Specialties
Double Ginger
$8.00
2Ginger Irish Whisky with house-made ginger simple syrup.
Cherry Blossom
$8.00
Momokawa Sake and plum wine. Served over ice.
Gari Cosmo
$8.00
Absolut Vodka, sweet lime juice, house-made ginger simple syrup, splash of cranberry.
Cucumber Saketini
$8.00
Tanqueray Gin and Momokawa Sake. Shaken with cucmber and a hint of lime.
One Night in Bangkok
$8.00
Momokawa sake, Chambord, and triple sec. Served on ice.
Sapphire Martini
$8.00
Bombay Sapphire Gin, pineapple, house-made ginger simple syrup.
Pamatini
$8.00
Absolut Citron, Pama pomegranate liqueur, cranberry juice, and a splash of sour.
Wonder Juice (NEW!)
$8.00
Honey, mango, lime, carrot, and your choice of Pinnacle Vodka (Flavor options: Original, Citrus, Pineapple, Tropical Punch, or Peach).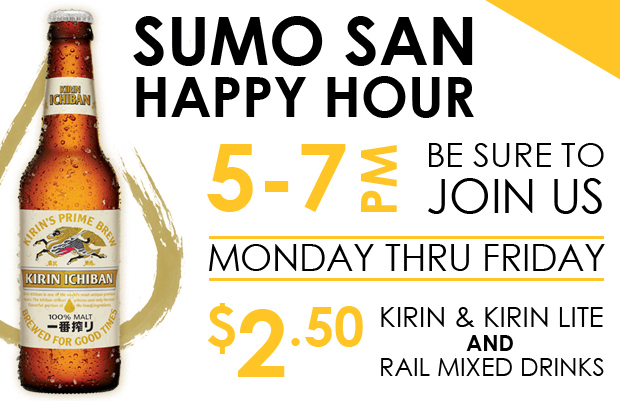 White Wine
Penfolds Chardonnay
$7.00 / $21
Acrobat Pinot Gris
$7.00 / $21
Monkey Bay Sauvignon Blanc
$7.00 / $21
Kikkoman Plum Wine
$7.00 / $21
Red Wine
Bogle Merlot
$6.50 / $26
Parducci Pinot Noir
$6.75 / $27
Sake
House Hot Sake
$4.50 / $8
Sho Chiku Bai Nama
$5.00
Sho Chiku Nigori (Unfiltered)
$12.00
Momokawa Diamond
$6 / $12 / $28
Seasonal Drink Specials
St. George Nut Brown Ale
$3.00
A classic English-style Brown Ale with flavors reminiscent of biscuit and caramel that is well balanced by a mild hop character. Brewed in Hampton, Virginia.
Small Hot Sake
$4.00
Traditional sake for cold weather.
Crispin Blackberry Pear Cider
$5.00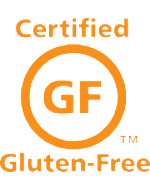 Naturally elegant and refreshingly adult with a sweet-sharp blackberry tang and mouthwatering juicy complexity, complemented by a luscious pear-berry bouquet.
Crispin Original Cider
$5.00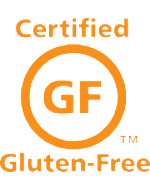 A classically styled, but untraditional hard apple cider. Fruit forward, with a fresh, crunchy appley nose and a deliciously refreshing, crisp mouth feel.
Raven's Roost Baltic Porter
$5.00
With a robust and roasty aroma, Raven's Roost Baltic Porter has notes of chocolate, caramel and toffee. Searching for the perfect porter? Quoth the raven, "Nevermore." Brewed in Salem, Virginia.
Blue Mountain Lager
$5.00
A great beer from Nelson County, Virginia, which has a higher hops percentage than traditional lagers. This authentic Continental-style beer is brewed with 2-row malts and noble hops, then cold fermented and lagered for six glorious weeks.
Beer
Sapporo 22oz.
$7.50
Kirin / Kirin Lite
$4.25
Bud / Bud Lite
$3.25
Miller Lite
$3.25
PBR Can
$1.50
Open Hours
Monday thru Friday
11:30am - 2:30pm
5:00pm - 10:00pm
Saturday & Sunday
5:00pm - 10:00pm